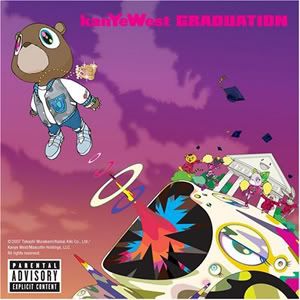 Yup, everyone on the internet has already put in their two pence about this album, but I thought I'd add my own too, just because it's the done thing really. I'll set the scene in my mind about this whole thing first though.

This 50 Cent/Kanye opening week war was a load of rubbish. It was a commercial ploy and probably worked in terms of generating both artists more publicity and more money. But there's another reason why its pointless. I'm very much against 50 Cent. I think he's one of the worst things to happen to hip-hop in a long time. Unlike others, I even thought his early underground material was absolute crap and he has one of the worst flows and voices in rap. His lyrics are playschool at best and he seems to be a very unintelligent man for the most part. I'm all for everyone having their opinion and I think everyone is entitled to theirs, but on this specific subject I have to say, if you are a fan of 50 Cent then not only are you an idiot, but you are an ignorant twat who needs to be burnt at the stake for supporting someone so ridiculously untalented.

Right… now back to Kanye. I was hyping up Kanye West as a producer way before Through The Wire came out, and I think it was his credits on 'Roc La Familia' that really made me a fan at first ('This Can't Be Life' springs to mind). He went on to be a great in-house producer for Roc-A-Fella and seemed to just get bigger and bigger with every song. I had all of his mixtapes and then wasn't disappointed with 'The College Dropout', which is still one of the best commercial/chart hip-hop albums of the past 5 or 6 years.

I liked 'Late Registration', but was a little disappointed with the lack of proper boom-bap on the album. The songs were decent enough, they were just all watered down a bit more, and it was a bit too polished to be relevant in a hip-hop sense for me. Let's say it was a good pop album rather than a good hip-hop album.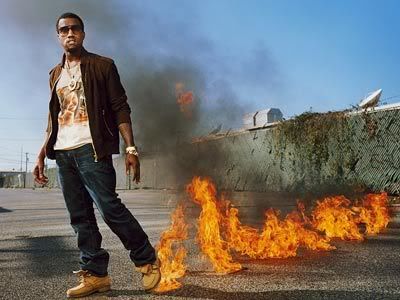 Now Kanye's back with 'Graduation' and he's a bigger artist in a commercial sense than ever before. Let's discuss the singles first.

I thought 'Can't Tell Me Nothin' was brilliant. Its an example of West at his best. The lyrics are funny, well thought out and a little erratic (in a good way), and the beat is vintage Kanye. I loved this song from the get-go. Then came 'Stronger'. One word to describe this song? LAZY. He hasn't even 'sampled' Daft Punk. He's basically just taken the song, put a different beat behind it and rapped some nonsensical words over the top. I really wasn't impressed with this single. For an artist who is supposed to be as creative as he is this just smacks of him running out of ideas.

I listened to the album for the first time last night after putting it off for a while, and it got my attention straight away, as I liked the intro and 'Champion'. 'Champion' and later on 'The Glory' both reminded me of the Kanye of old in a beat sense, and this what I was wanting to hear. Sadly, the rest of the album, with a few exceptions, is just boring pop drivel.

'Good Life' featuring T-Pain just, well, sounds like a song that features T-Pain, which translates as sounding like something that makes me recoil in disgust. 'Barry Bonds' featuring Lil' Wayne was very weak. The beat is easily one of the most dull Kanye has created, and Lil' Wayne continues his reign as being the most overrated man in rap today. 'Drunk & Hot Girls' could possibly be one of the worst songs Mos Def has ever been involved with (mind you, his career has took a nosedive after the disgrace that was 'True Magic'). Ditto for 'Flashing Lights' featuring Dwele. Kanye seems to have attempted to get Dwele in for the respectability factor,. But then proceeds to give him a synthy pop beat and a chorus that sounds like its straight out of a Britney Spears or B2K song. Complete misuse of a guest star if you ask me.

There's nothing wrong with 'Everything I Am' and 'I Wonder', but because they're slow and don't keep your attention very well, they don't hold up to repeated listens.. After 'The Glory', there isn't another good song on the album. There's nothing wrong with the last few songs either, but its just so pedestrian.

The creativity isn't there anymore, but even more glaringly obvious is the lack of enthusiasm in Kanye himself to deliver a good album. Other than on 'Can't Tell Me Nothing' & 'Champion', Kanye just trundles through the songs at a snail's pace and just seems to be spitting out whatever lame lyrics come into his head. There's no focus in the whole project. The reason 'College Dropout' was such a joy to hear was because of the thirst and passion contained in the music and lyrics. Even 'Late Registration' showed the same passion in songs such as 'Crack Music', 'We Major', 'Touch The Sky' and many others.

To sum up, this is the worst album of Kanye's career, and I think West should have maybe kept some of those Common beats from 'Be' for his own project. A big disappointment.

Rating: 5/10