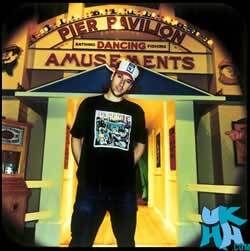 DJ Format first came into my conscienceness when I heard the song 'We Know Something You Don't Know' guest starring Jurassic 5's Chali 2na & Akil. I was big on Jurassic 5 at the time as they were releasing their best material, with their debut and Quality Control already out and Power In Numbers on the way. The song was ok, but it didn't really get a lot of play by me until a few months later, after I had heard a lovely song called 'Ill Culinary Behaviour' from DJ Yoda's How To Cut & Paste mix. The song was produced by Format and had a guy named Abdominal on the vocals.
I had never heard of Abdominal before, and was entertained instantly by his chatter of setting a table and eating. It seemed very stupid but somehow fresh to death, so I looked into both Abdominal & DJ Format's material. Turns out that Format had an album called
'Music For The Mature B-Boy'
on the way, with Ab starring on quite a few songs, so I waited for the release and bought it within days of seeing it on the shelves.
Music For The Mature B-Boy'
is an incredible debut album (Format has had albums before that but they were more like mixes or instrumental tapes). The production of Format is second to none, and it rattles with nostalgic golden age- beats throughout. The music is the perfect summer soundtrack. What made this album so good for me though was rapper Abdominal.
In an earlier post I had the video up for 'Vicious Battle Raps', and the reason why was because I absolutely love that song. I know every word in and out. One loooong verse by Abdominal that keeps on gaining momentum all of the way over one of the best beats on the album.
'Music For The Mature B-Boy'
is a 9 out of 10 album in my opinion, and it's easily one of the best 'producer' albums out there.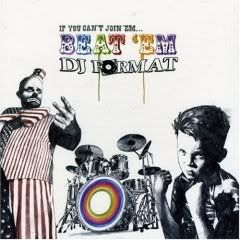 DJ Format followed this one up with
'If You Can't Join 'Em, Beat 'Em'
. It follows the same formula as the first, but this time Abdominal brings along his mate D-Sisive to handle some of the tracks. Their chemistry on tracks like '3 Feet Deep' & 'Separated At Birth' is impeccable. The album as a whole may not be as memorable as the first, but it follows on with the same sound and is consistent from the Intro to the last track.
Abdominal went on to do a brilliant album with DJ Fase called
'Flowtation Device'
, and now has a new single coming out as a solo artist. Southampton-born DJ Format has released a few mixes since then. Incidentally I can't stand Southampton's football club. So dull. I hope they stay in the Championship and away from the Premiership as long as possible. Sorry all you Saints fans.
Anyway, I'm not going to upload a compilation of my favourite DJ Format songs, as most of you will own the two albums already (If not, click on the links in this post and buy them because they truly are worth it), but I will upload his two best dj albums.
Format released
'A Right Earful Vol.1'
on Antidote Records in 2005, and it features songs by the man himself, Abdominal, Ugly Duckling and Edan along with classics by The Alkaholiks, Black Sheep & Souls Of Mischief. Its what I would call a 'proper' mixtape, and benefits from a carefully picked selection of songs that go together to create the mood and sound that reflects the DJ.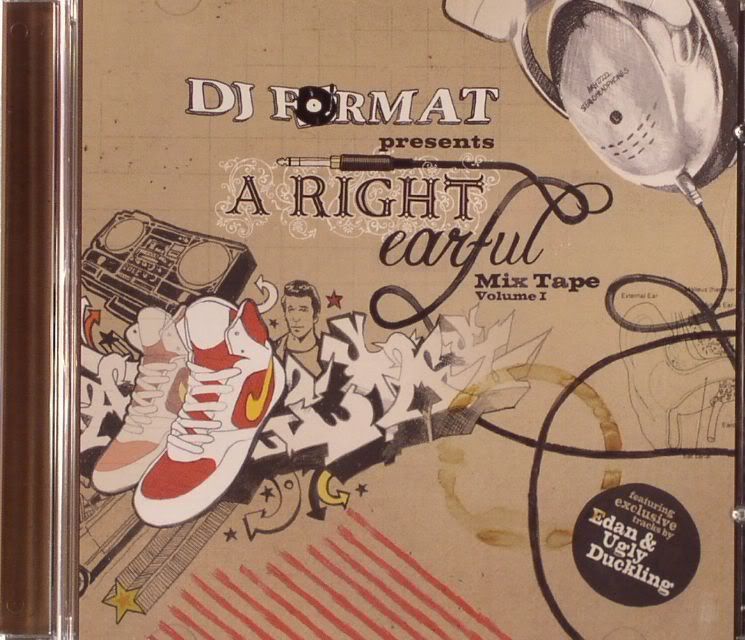 1. 'Oh My' - Down South
2. 'Fast Food Remix' - Abdominal and DJ Faze
3. 'Inner City Boundaries' - Freestyle Fellowship
4. 'Phuck What Ya Heard' - Madkap
5. 'A Name I Call Myself' - Souls Of Mischief
6. 'Record Making Manual' - Nautilus
7. 'Ya Mouth Stink' - Lord Sear
8. 'Humble Magnificent' - Edan
9. 'Almond Rocha' - Ugly Duckling
10. 'Bone Fide Funk' - Brand New Heavies And Main Source
11. 'For Betta Or For Worse' - Pharcycle
12. 'The Dips' - The Wascals
13. 'Turn The Party Out' - The Alkaholiks
14. 'We Got The Fat Joint' - King Tee
15. 'What's The Real' - Kurious
16. 'Still In The Ghetto' - Black Sheep
17. 'Operation Desert Storm' - Double J
18. 'Funky Rhymin' - Edan
19. 'Give Me A Microphone' - Little Barrie
20. 'Popcorn' - The Upsetters
21. 'Funky Frith Street' - Gonzalez
DJ Format also released his
Fabriclive 27
Mix in mid-2006, and it features a blend of modern hip-hop be Lyrics Born and the like and some traditional funk and soul music. I find a lot of enjoyment in listening to funk and soul music (especially soul) but I don't know a lot about the fonkier side of things so I will let you judge for yourself from the tracklisting whether the songs are well-known or not. Either way, its another great mix that deserves to be shared, so enjoy Fabriclive 27 by our man Format.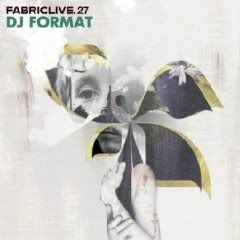 1. "33% B-Boy" - DJ Format
2. "U.D. in Brasil" - Ugly Duckling
3. "Do That There" - Lyrics Born
4. "3ft Deep" - DJ Format
5. "SNT (Live at the Peace Pipe '93) - Cut Chemist & This Kid Named Miles
6. "Beats and Pieces" - Coldcut
7. "Bristol Fingers" - Aspects
8. "Root Down" - Jimmy Smith
9. "Get Wise '91 - Mr. Lif & Edan
10."Changes" - Nostalgia 77
11."Sunshine of Your Love" - Ella Fitzgerald
12."Hot Rod Poppa" - Marsha Hunt
13."Slip" - Reverend Cleatus & The Soul Saviours
14."Save Me" - Nina Simone
15."Indian Rope Man" - Julie Driscoll, Brian Auger, Trinity (band)
16."Sweet Bacon" - Julian Covey & The Machine
17."Breakdown" - We The People
18."Toe Hold" - Ellen McIlwaine
19."Put Some Grit In It" - Karachi Prison Band
20."Give Me Mercy" - Ruff Francis & The Illusions
21."I Need Someone" - Linda Perry & The Soul Express
22."Slinky" - John Murtaugh
23."Dancin' Drums - Ananda Shankar
24."Night Owl" - Cleo Laine
25."Rock 'n' Roll" - Edan & Dagha



As usual we'll end the post with a few vids by the artists. The two I've chosen are one from each of his albums.
The Hit Song (with Abdominal on the words)
3 Feet Deep (with Abdominal & D-Sisive)