The first in a series - This one is a mixed bag with something for everyone. With the football (or soccer, as you strange people in USA call it) season still not started yet, I'm suffering from withdrawal symptoms from watching my beloved Newcastle United (Toon, Toon, Black N White Army!), so I find myself listening to a lot more music at the moment. It fills the void nicely, and aswell as getting new material, I've recently been scouring through my older Cds and listening to them again.
I've mentioned 'Son Records' before, when talking about both HKB Finn and DPF, but this time I'm going to throw up the compilation they brought out covering most of their major releases from 1998 to 2003. It has some true classic UK material on there, including tracks by Def Tex, a young and not yet P-Brothers-affiliated Cappo, Styly Cee and the once Out-Da-Ville member C-Mone.
Its solid throughout, and really does represent a good cross section of the lesser known hip-hop music from our country in that time period.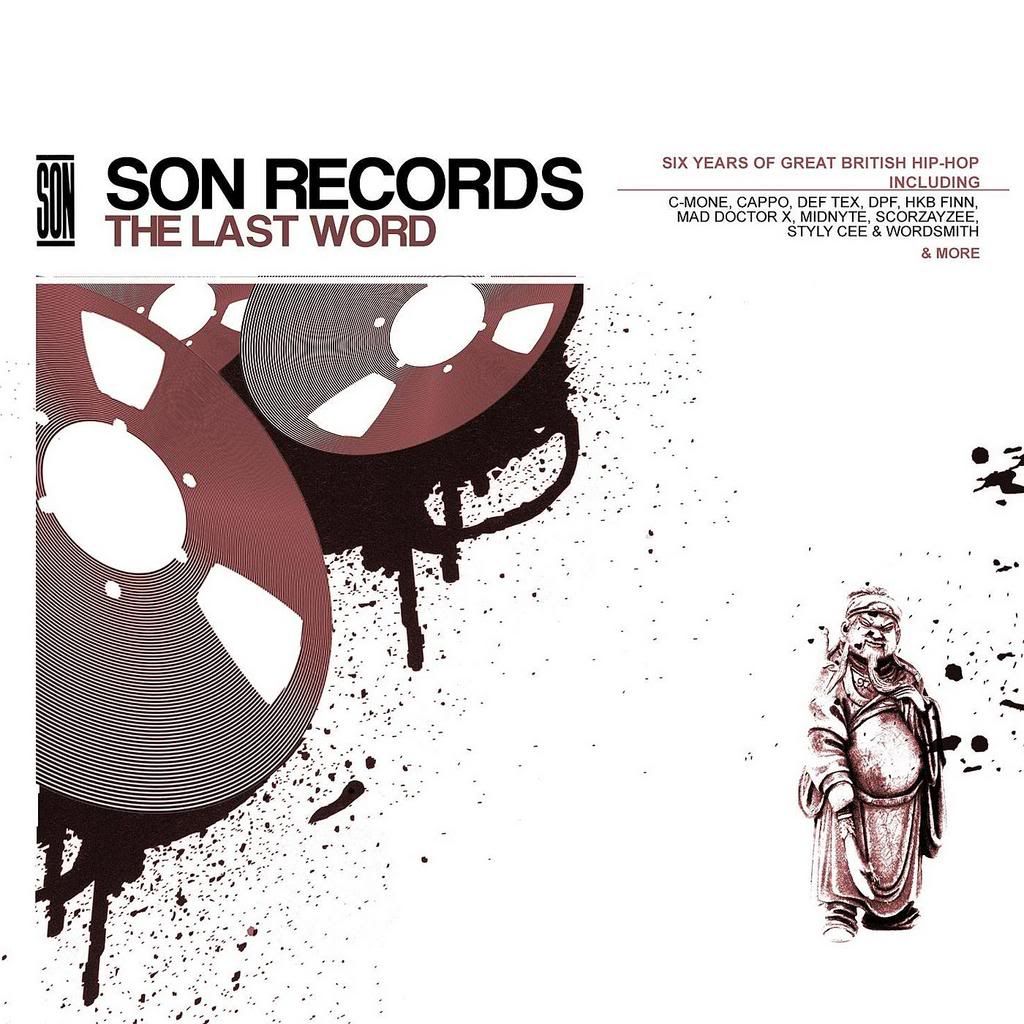 Son Records 1998 - 2003 (2004)
1. Styly Cee - Here Comes Son
2. Mad Doctor X feat Quakes, The Brotherhood, Tenor Fly, Voyager & Blak Twang - Deejays & Emcees
3. Styly Cee feat Cappo & Scor-Zay-Zee - No Pain, No Gain
4. DPF - Yadda Yadda
5. Quakes - Neptune
6. Def Tex - Dancehaul
7. HKB Finn- In The Stillness (Dans Le Calm De La Nuit Mix)
8. C-Mone - UK Chant
9. Lost Island - Mic Life
10. Cappo - Gilgamesh
11. HKB Finn - Vitalistics
12. Def Tex feat DJ Plus One - Turntable For Two
13. DPF - Dis Cuss Peace
14. Styly Cee feat Midnyte - Kofi's Night
15. Lost Island - Lunch In The Limelight
16. C-Mone - Its Bad
17. Midnyte - Them Or Us
18. UK Kartel - UK Yakuza
19. Mad Doctor X feat Frisco, Cappo, Navigator, Don , Voyager, Terra, D-Luv - 7even (Azzurro Remix)
After that I'm going back to the year 2000, and one of the first ever releases on the now cult label and music collective that spawns obsessive fans, Definitive Jux. This was back before Def Jam tried to sue El-P for having a 'similar' name, and it was still Def Jux. The album, a bit like Son Records, is a small compilation showcasing artist from the album. Strange thing is, pretty much EVERYONE on this album has gone on to be huge rap stars in their own right. First you have Company Flow & El-Producto, who were already established before the creation of the label, releasing the brilliant 'Funcrusher Plus', instrumental album 'Little Johnny Went To Hospital' and a handful of great 12" singles. The CD may even act as one of the last recording done by Co Flow as a group because as far as I know they didn't release any other material on Def Jux and Mr Len went on to do his own thing.
Aesop Rock makes what I assume is his first song for the label called 'Kill Em All' pre-empting my favourite album he has ever released 'Labor Days'. Cannibal Ox, creators of one of the most 'cult' hip hop offerings there is 'The Cold Vein', contribute 'Iron Galaxy' & 'Straight Off The D.I.C.', which if I'm not mistaken feature on their album anyway. Finally we have RjD2, who has went mega in recent years with his production and solo albums. He contributes 'Silver Fox' to this tape.
The guest spots are kept to a minimum, with only Ill Bill of Non-Phixion fame dropping a verse on a Co. Flow track. This one mini-album paved the way for ALL Def Jux releases that followed, and showed that from day one El-P and his label had already planned out a particular sound for his record company, a sound that it still holds to this day.
1. Company Flow - DPA (As Seen On TV)
2. Company Flow (feat. Ill Bill) - Simian D AKA Feeling Ignorant
3. Cannibal Ox - Iron Galaxy
4. RjD2 - Silver Fox
5. Cannibal Ox - Straight Off The D.I.C.
6. Aesop Rock - Kill Em All
7. Company Flow - Simple
Finally we have an album that I picked up over a year after it was initially released from a small Independent record shop in Nottingham for only a couple of quid. This one does have a smidgin of a connection to the last album, as its writer, rapper, producer Blueprint has ties with RjD2, being the co-star of group Soul Position with him. This album also features a guest spot for Aesop Rock on the song 'Lo-Fi Funk'.
When I first heard '1988' I loved the whole album's integrity. Its produced entirely by Blueprint himself, and there are only two guest verses on the whole album, making it a very personal affair. In the liner notes Blueprint says 'The year 1988 gave birth to lot of classic hip-hop records, so I named this album 1988 to pay tribute to those artist and records'. it's the man's own tribute to the golden era, complete with old school beats and a grass roots approach to production. On a side note, the song 'Big Girls Need Love Too' is hilarious.
1. Introduction
2. Anything Is Possible
3. 1988
4. Inner-City-Native-Son
5. Tramp
6. Boombox
7. Trouble On My Mind
8. Lo-Fi Funk (feat. Aesop Rock)
9. Big Girls Need Love Too
10. Fresh
11. Where's Your Girlfriend At?
12. Kill Me First
13. Liberated
Don't forget that I have two blogs. This one is simply for the music, but 'Gangsta Jackanory' is my day-to-day blog that I update all the time. It covers my thoughts on everyday life, my opinions on sports, film reviews and general rants. Basically a place for me to vent or show my opinions on most things. I may even put some music related posts on there pertaining to other genres, in order to keep this blog strictly hip-hop. Anyway, there is a link above the C-Box and that site gets updated as much as this one, so if you're here for the writing as much as the music, feel free to take a look at that aswell.
Until the next post, enjoy the music you mickey mouse motherf*ckers!