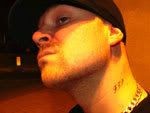 I've talked and talked in the past about Baby J's production credentials on this site since day one, and highlighted the modern UK classics he's already created with countless british emcees.
He has three solid producer albums under his belt, all of which have been well-recieved. He's helped Blade craft arguably one of his best albums a couple of years back in 'Guerilla Tactics' and he is about to unleash new material very soon. One thing Baby J doesn't get credited for is his work with US emcees.
Even on his debut album 'Birth' he had songs with Shabaam Sahdeeq of the late 90s indie label Rawkus fame. In fact, one of his best ever songs was with revolutionary, at times quite racist but always entertaining 'dead prez' on his song 'Scattered People'.
One US group that have been a permanent fixture on Baby J albums is the A-Alikes. They are a duo who are loosely affiliated with dead prez and Tahir (Hedrush) and they make some hard-hitting tracks. Whilst not the MOST talented duo, they certainly know their way around a hook and a beat. Also, with Baby J producing every track on this album, they couldn't really fail.
'Kill The Middleman' is a solid if not spectacular that showcases J as notjust a one trick pony. Although he does rely on soul samples a lot of the time, he has proved that he has other weapons in his arsenal.

A-Alikes - Kill The Middleman (2005)
1. Intro
2. Pop Off
3. Young Buk to OG (feat. I.G.)
4. Love Is Love
5. Why? (feat. Laurissa)
6. Freedom
7. Treeman
8. Keep It Funky
9. What Niggaz Do
10. Throw Ya Gunz
11. I'll Probably Wind Up
12. If I Get On (feat. Teresa)
13. The Babies
14. Some Of Us
15. Snitch
16. Eenie Meanie (feat. Teresa)
17. Strategy
18. Grey Skies