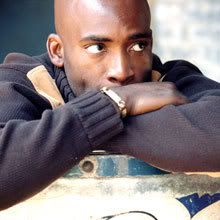 He is unquestionably a legend in England for his contribution to hip-hop. He's a former member of one of the true classic groups ever to come from our nation's loins, and he has done nothing but help the profile of British hip-hop on a national and international scale with his deejaying and radio shows, such as his show with Skitz on 1Xtra. Aye, its Rodney P.

Rodney P is an artist all fans of British hip-hop know about, and he's fairly well-known in the grand scheme of things, comparatively to most British artists. However, Rodders hasn't really released much in the way of albums. His album with Bionic as London Posse called 'Gangster Chronicle' is an undeniable highpoint in 90s Blighty rap, and he managed to get a good promotional push for his only true solo album 'The Future' a couple of years back, but Rodney has stacks of material that got released as singles, on compilations and such, but never made it onto a full-length. I'm fairly certain he has had at least one or two albums shelved completely by past record labels too (but don't quote me on that one!).

So, to help fill the gap that I'm sure everyone in the entire world has under 'Rodney P' in their immaculately alphabetised music collections, here's some Rodney P goodness for you. These songs range from unreleased material and singles to guest spots and such that I have compiled into a neat little album to be digested worldwide by all people who can afford broadband internet. How nice of me…

Rodney P - The Riddim Killa (Northern Author Collection)

1. Ganja Smuggling
2. I Like London In The Rain
3. Love & Hate
4. Murderer Style
5. The Nice Up
6. Tings In Time
7. Tour Stories
8. You Know Who You Are (with Farma G, Mystro & Braintax)
9. UK Bubblers (with Skinnyman & Skitz)
10. Shelter (with The Brand New Heavies)
11. Can You See Me?
12. Big Tings We Inna

As a Brucey Bonus, here's two Rodney P videos for you. First, you have the cameo-heavy video of the brilliant 'Riddim Killa', and then, you have the more bouncified collaboration with two other veterans of British rap: Million Dan (as discussed in the last post, formerly of the Demon Boyz) and MCD (I need to do a post on this guy!). Its DJ First Aid's cut 'Devon Cream', produced by Baby J.


Rodney P - Riddim Killa


DJ First Aid featuring Million Dan, MCD & Rodney P - Devon Cream