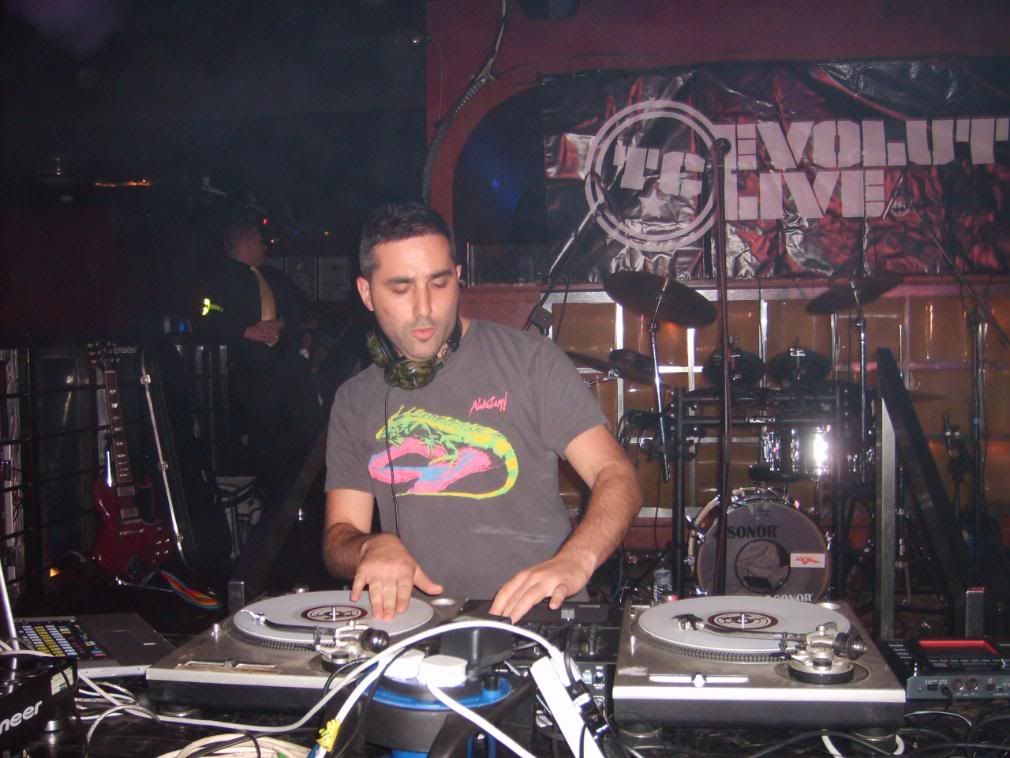 Our artist in focus today is possibly the most recognisable and well-known British deejays in the hip-hop game. He has been on the scene for many many years and his penchant for silliness and comic effect coupled with an undeniable cutting and scratching ability has created him a small niche in the system.

He could be green, he could be a midget, hecould be a teacher, nay, master of what Darth Vader quite breathily called 'The Force', but one thing he most certainly is, is a great artist. Its DJ Yoda.

For the uninitiated, his music is a mixture of silly hip-hop/pop cultures mash ups, manic scratching and straight up hip-hop guest songs. Each of these three CDs carries on the tradition of him cutting up TV and Film themes, and the first two have many superb songs from classic artists such as Quasimoto and The Pharcyde. The third, 'How To Cut & Paste The 80s', is simply the silly side of him, and finds him putting breakbeats behind some famous 80s pop songs and such. If you aren't entirely into the stupidity of it all its irrelevant anyway because exclusive cuts from artists such as Yaggfu Front and The Beatnuts will always keep your attention, but if not, you'll be very pleased with the amount of slapstick scratching we have here.
DJs such as Paul Nice or neil Armstrong have tried to do similar things in the States but I really think Yoda has this type of mix down pat. So enjoy.

Also, If anyone has any of his 'Unthugged' series with radio deejay Dan Greenpeace I would be very grateful.



Dj Yoda - How To Cut & Paste Volume I

1. Intro
2. Willus Drummond - It's A Stickup
3. Irritating Dove f/Cymande & Bob James
4. Ugly Duckling - Eye On The Gold Chain (92 Remix)
5. Stupid Poo f/Treacherous Three & Kool Moe Dee
6. DJ Plus One-Scratch Skit I
7. Mexican Policemen At The Alien Mardi Gras f/Bob James
8. Yoda Meets The Thunderbirds
9. Yaggfu Front - Roll With The Yaggfu
10. Dune Storms f/Bob James
11. DJ Benny G (Mixologists)-Scratch Skit II
12. Delta Ebonics
13. Pete Rock f/Rock Marciano & Trife - Give It To Y'all
14. Perverted Disturbances f/Cymande, Rimshots & Bob James
15. MC Paul Barman Salvation Barmy
16. DJ A-Trak-Scratch Skit III
17. Sesame Sex f/The Street Kids
18. The Nextmen f/Kerosene - Global Warming
19. The Jiving Question Remains f/Bob James
20. Nigo f/Biz Markie - Something For The People
21. Sugarhill Gang - Radio Commercial
22. DJ Spinbad-Scratch Skit IV
23. Dizzy Plays The Sax f/Dizzy Gillespie, Parliament & Cymande
24. Balti Taxi f/Bob James
25. Quasimoto - Astronaut
26. Yoda Meets Dr Who
27. On The Reggae-lar f/Dennis Alcapone, Desmond Decker, Harry J Allstars, Sly & The Revolutionaries, Roots Radics Band
28. King Tee And Phil The Agony - Back Up
29. Golf, Food & Scratching f/Fat Back Band, Mother Freedom Band & Cymande
30. Edan - Mic Manipulator
31. French Collection f/Bob James
32. Car Trouble f/William De Vaughan & Fat Back Band
33. Parliament - Automobile
34. DJ Yoda-Scratch Skit V
35. Outro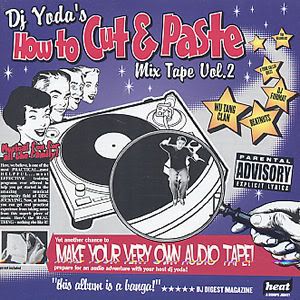 DJ Yoda - How To Cut & Paste Vol. 2

1. Intro
2. DJ Format - I'll Culinary Behaviour
3. Creatures, Breakin', and Names
4. Mr Complex featuring Biz Markie - Glue
5. Cucumbers, Needles, Sandwiches & Jazz
6. Quasimoto - Lonely Piano
7. Yoda Meets The A-Team
8. Scratching & Keyboard Techniques
9. People Under The Stairs - Quid Control
10. Mysterious Plot
11. Billie Holiday Turntablised
12. The Beatnuts - We Got the Funk
13. On the Reggae-Lar Part 2
14. Black Moon - I Gotcha Opin
15. The Pharcyde - Drop
16. A Tribe Called Quest & Busta Rhymes - One Two S**t
17. The Alkaholiks - Only When I'm Drunk
18. Anything
19. Wu Tang Clan - C.R.E.A.M.
20. Tony Mozzarelli Wants 80s Pop
21. Rhubarb Tart
22. George Formby Turntablised
23. Outro


DJ Yoda - How To Cut & Paste The 80s


1. Intro / Grandmaster Flash & The Furious Five feat. Melle Mel & Duke Bootee - The Message
2. Johnny Hates Jazz - Turn Back the Clock
3. Nice & Smooth - Hip Hop Junkies
4. Climie Fisher - Rise To The Occasion
5. Yoda with Hill Street Blues
6. Paul Hardcastle - 19
7. Grandmaster Flash & Melle Mel - White Lines (Don't Do It)
8. Thompson Twins - Doctor! Doctor!
9. Melle Mel & Duke Bottee - Message II (Survival)
10. Yoda in Dallas
11. Yoda in Dynasty
12. S Express - Theme
13. Betty Boo - Doin' the Do
14. Europe - Final Countdown
15. Herbie Hancock - Rockit
16. Lisa Lisa & Cult Jam - I Wonder If I Take You Home
17. Midnight Star - Operator
18. Rick Astley - Together Forever
19. Yoda Plays Computer Games
20. Terence Trent D'Arby - Sign Your Name
21. Tom Browne - Funkin' For Jamaica
22. Kurtis Blow - The Breaks
23. Blondie - Rapture
24. Grandmaster Flash - Adventures on the Wheels of Steel
25. Yoda In Airwolf
26. ABC - When Smokey Sings
27. Aztec Camera - Somewhere In My Heart
28. Prefab Sprout - The King Of Rock N Roll
29. Toni Basil - Mickey
30. Nena - 99 Luftballons
31. Salt N Pepa - My Mic Sounds Nice
32. UB40 - Rat In Mi Kitchen
33. Slick Rick - Hey Young World / Miami Vice (Crockett's Theme)
34. Culture Club - Karma Chameleon
35. Hall & Oates - Maneater
36. The Primitives - Crash
37. A-Ha - Take on Me
38. Aspects present... Cameo - Word Up (It's My Genre II)
39. Yoda in Knight Rider