Blak Twang was riding a serious high in the early '00s after the huge commercial success of songs 'Kik Off' and more importantly 'So Rotten'. The subsequent album 'Kik Off' did VERY well and signalled that Tony Rotten was destined to be THE star of UK hip-hop. While Roots Manuva's commercial flirting was coming to an end, Blak Twang looked like he was going to take over the mantle as media darling for our country's rap genre.
Fast forward a year or so to 2005, and Blak Twang released his follow-up to 'Kik Off', with critical acclaim. Singles such as 'GCSE' did fairly well, getting rotation on radio stations and its video was playing everyday on channels such as MTV Base. However, the album's full success never really materialised, and despite the fact that almost every review I read about it gave it a huge thumbs up, it seemed like the album went over a lot of people's heads.
'The Rotten Club' differed slightly to Twang's older material, as it went back to the Dettwork SouthEast days in part with some gritty production and minimal guest spots from fellow UK rappers. Where 'Kik Off' had huge radio friendly singles like 'Trixstar' with Estelle (yes, the same Estelle that is now singing about American Boys with a certain arrogant homosexually-dressed man called Kanye), 'The Rotten Club' had more gritty dub-influenced tracks like 'Beef Stop'. Of course, Blak Twang still had the odd girly song, 'Lady' being the slow-grinder on the record.
On the whole, I think this album didn't get the recognition it deserved. Blak Twang always comes correc lyrically, but he stepped his game up from punch line rapper to serious lyricist here in my opinion, with tracks like the aforementioned 'GCSE' and 'Travellin' being particular highlights.
This, coupled with the fact that the last two tracks are produced by Harry Love (a legend in my book) means that I not only recommend this album for repeated listening, but I present it to you now. And Tony, release some goddamn new material, mate!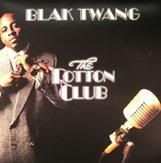 Blak Twang - The Rotten Club (2005)
1. Rotten Club
2. Position
3. Beef Stop
4. GCSE (featuring K9)
5. Lady
6. Travellin' (featuring Barrington Levy)
7. Stop & Search (featuring Alborosie)
8. Roadworks
9. Soldier
10. Prayer For The Dying
11. My World
12. Look Good (featuring Microw)
13. Where Lions Roam (featuring K9)
14. Carry On
15. Done It Again (featuring Hilz St. Soul)