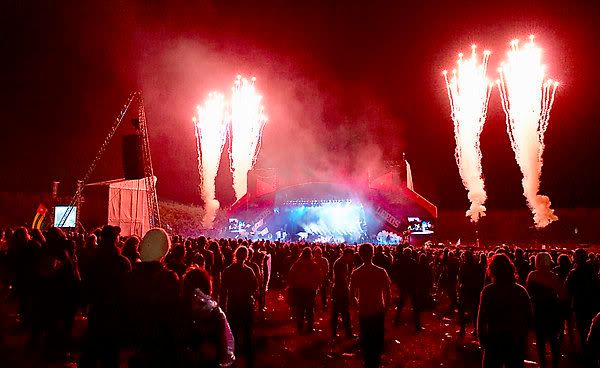 So, another weekend at Leeds Festival has been and gone and this time I was not disappointed. Of course, its a predominantly rock-based music festival, but there were quite a few urban, hip-hop acts nestled in among the madness.
On the Friday, Lethal Bizzle played the Dance Stage in the afternoon, and he completely shocked me with his live performance. The tent was absolutely packed and the former More Fire Crew member got the whole crowd jumping with a whistle-stop set through his biggest hits such as 'Pow!', 'Fire' and 'Its A Shame'. I would personally like to apologise to Bizzle for including him in the list of grime acts with no talent only a month ago, because this man completely surprised me with his onsatge presence.
It is no wonder that Lethal Bizzle has been embraced by the indie scene as much as his bread-and-butter urban scene (he is fawned over in NME each week), as he has an onstage persona that completely belies his music's made-in-the-garage sound (the sound most grime music has to my ear). Halfway through his set he jumped atop a massive speaker on the side of the stage and started performing his new single 'Bizzle, Bizzle' from up there before getting the crowd to chant his name followed by 'Fuck Download' (*he played Download festival earlier in the summer, which is a staunchly positioned metal festival...needless to say the metal fans did not take kindly to his being there and they bottled him off - completely the organisers fault because an urban artists shouldn't be playing Download in the first place). It was one of the most refreshing and surprising performances of the whole weekend, which is an achievement considering he was only on one of the side stages and he was playing to mostly indie hipsters and metal fans (Metallica were headlining later that day).
A new man when it comes to infiltrating the mainstream consciousness, Natty played a very impressive laidback reggae set on one of the smaller stages to an appreciative crowd. Natty's new album 'Man Like I' has just come out and is an absolute belter so run out and buy it now or I'll cut your balls off.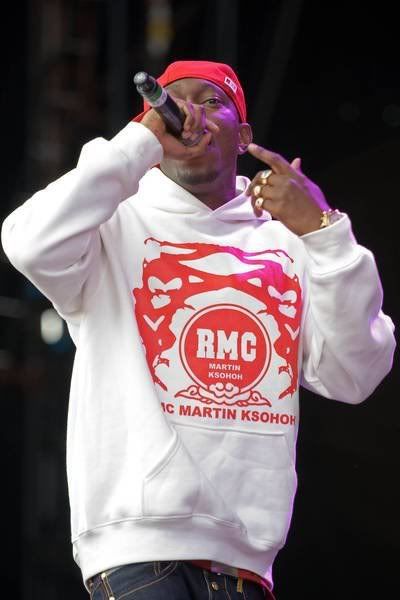 Dizzee Rascal continued to excel live when he played the main stage on Saturday afternoon. The crowd he gathered at about 2pm was phenomenal, with everyone singing hits such as 'Fix Up, Look Sharp', 'I Luv U', 'Stand Up Tall' and the questionable newer song 'Dance Wiv Me' in unison. He was joined onstage by 1Xtra man DJ Semtex (who was much fatter than I remember!) and some hype men.
Space Age funksters Chromeo delivered a great set to a small crowd on the Dance stage late on Friday evening, further cementing themselves as one of the best funk acts around in the world of modern music. The great thing about their set is that despite the crowd being small, everyone their knew the songs inside out, and the use of hip-hop tinged vocoders and keyboard trickery gave them a much more urban feel, allowing the crowd to really get involved with the songs (hip-hop tracks are MADE for live performances).
Wiley played much later on the Alternative stage on Friday and apparently delivered quite a good performace (I was on the main stage awaiting Metallica, yeah, I'm a metalhead too) but obviously most fans were indie kids and came to see the dance (see: not hip-hop) track 'Wearing My Rolex'. Wiley is a very creative and interesting rapper but its disappinting that the only way a man like him can breakthrough to the mainstream is if he changes his sound so much that its almost unrecognisable.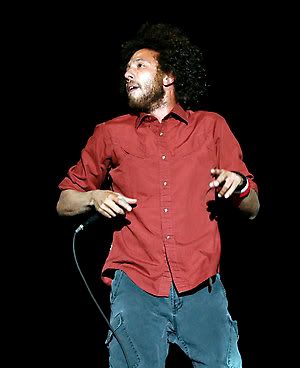 Even with all of this, the best 'urban' (I'll explain) act there was by far Rage Against The Machine. 'RATM, hip hop?', I hear you ask. Well, maybe not in sound alone, as they are widely regarded as one of the best metal acts of our generation, but frontman Zack de la Rocha is arguably one of the best lyricists and emcees of all time. The man oozes charisma, and people were passing out as he took the stage to perform 'Testify'. de la Rocha raps like he was a hip-hop legend, and one of his verses has more substance than most emcees have spit in their entire careers. Anyone who is a hip-hop fan but has never listened to RATM because they are seen as metal, I URGE you to pick up one of their albums and listen to them. You will not be disappointed.
Sorry about letting this website slide, there are a few reasons why which will bore you to death so I won't mention them. I'm not going to lie, posts will be a bit further apart for the next few months than they used to be, but I'll make sure updates DO come.