Right, then lads and lasses. Something a little different for your ears instead of the usual hip-hop. Here is the debut album 'Just Living' by Kevin Mark Trail, a British born singer-songwriter.
KMT is a brilliant soul singer that makes exemplary and modest soul music ideal for any night in. This album garnered HUGE critical acclaim from everyone from The Guardian to being pondered over for a Mercury Music Prize nomination. You may know him, or at least his voice, as he guested on two tracks on The Streets' debut 'Original Pirate Material', most notably he sung the chorus on the single 'Lets Push Things Forward'.
After touring with Mike Skinner he went out alone to push his solo career and this first release is a great introduction to his sound. Plus, he had UK legends Blak Twang (so glad he brought out new material...now if only I had money to buy...) and Rodney P on the remix to his song 'Last Night', so you can't argue with that. Hopefully the man will come out with some more material soon and not get lost in the already massive pile of r'n'b singer that failed to really blow up commercially despite their considerable talent. Sit back, make a hot beverage, wear a cardigan, and relax in front of the fire (or the radiator for the lesser posh) to the sounds of Kevin Mark Trail.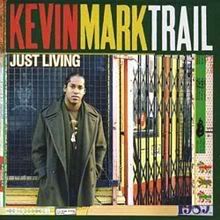 1. D Thames
2. Vibe
3. Lion By Trade
4. Last Night
5. Ticket Line
6. Bread
7. Ego City
8. Full Moon
9. Breathless
10. Backbone
11. Perspective
12. City Boy

Kevin Mark Trail - Last Night REMIX feat Blak Twang & Rodney P (VIDEO)