Soaps is what I'm getting at. I first heard that song by Dooley-O a couple of years ago and I really did think I'd found an unearthed gem from back in the day. This was not the case, as Dooley-O, the legendary DJ and producer had turned rapper for a new album. I'm well aware of the high intelligence and knowledge of my fellow hip-hop bloggers, so I will not bore you with the story of how he and Steezo (his brother as I recall) sampled Skull Snaps, fell out over it and such. Anyway, the beat Dooley-O made from it paved the way for many other classic songs to be created using the same break, but the man went into hiding over recent years.

Luckily for us, he re-emerged on Lewis Recordings, home to everyone's favourite old school cat Edan, and a few more random acts such as Andrew Thompson (his song 'Misunderstanding' is fairly wierd, funny though). He dropped his album 'I Gotcha' in '05 and got critical acclaim.

It harks back to the dyas of what I like to call 'proper' beats. Made with old breaks and using the drums as the main weapon of choice. The album is consistent throughout, even with old school rhyme schemes and themes present. It really is a nostalgic experience for the older heads, but for people like me, who were itty bitty babies during the '88 hip-hop boom, its a lesson on how things used to be and should be done.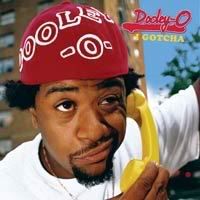 1. Intro
2. Soaps
3. I Don't Wanna Lose You
4. Monday Night
5. What You Know About Hip-Hop?
6. I Gotcha
7. I'm Comin'
8. Which Way Is Up
9. KGB Warning
10. He's Gangsta
11. Cashed Out
12. I Wish
13. Piano Blues
14. Over You
15. Aahhaa
16. We Ain't Singin' It
17. Rythum's Revenge
18. Drumz

Dooley-O - Soaps (Video)