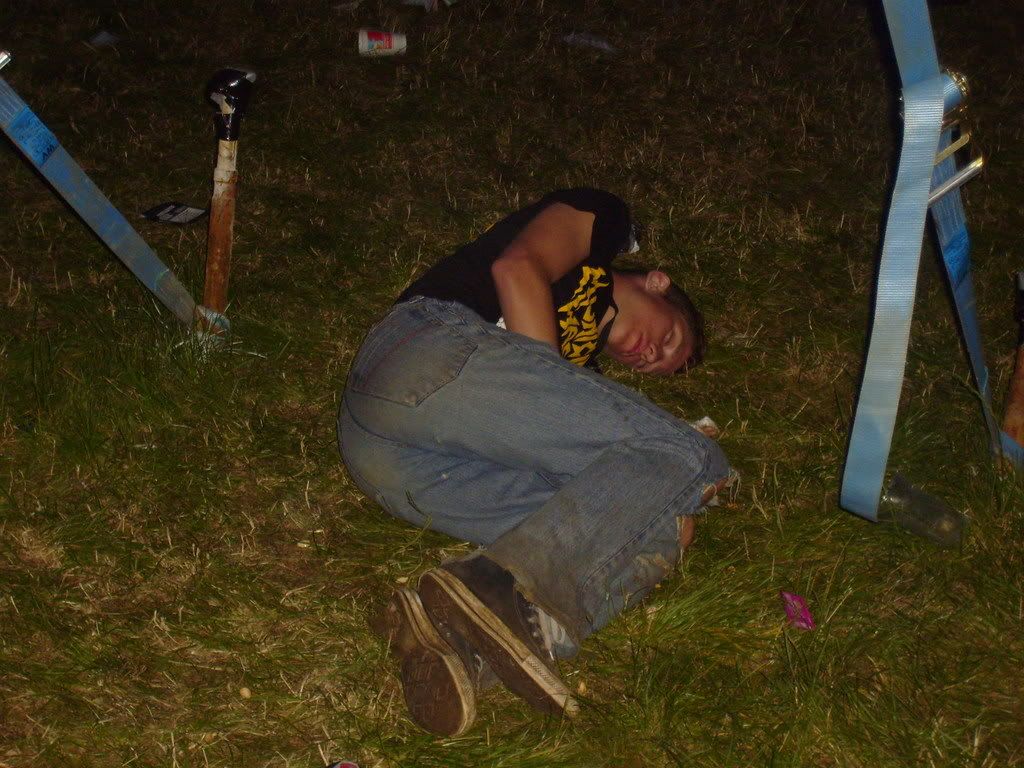 I have just returned from a superb weekend at the Leeds Carling Weekend 2007. In the past three to four days I've seen about 20 great bands and I've enjoyed every minute of it, with absolutely no hint of hip-hop in sight. I know this blog and its friends are strictly hip-hop, and it will stay that way, but I will set out my musical taste here.
I am, of course, primarily a hip-hip head, but I spend only say 50% of my music-listening time with hip-hop on. I listen to metal, indie, soul, rock, funk, dance, all of it. But rock/metal is my second love. And I must say, it was nice to get away from hip-hop for a few days and just be a rock fan for once instead of just towing the line.
I hope that everyone that visits this site loves rock and many other genres as well as hip-hop, because if you just seclude yourself and commit to one genre you're missing out on thousands upon thousands of superb other artists that could change your life. Right about now, I have to bring up a more serious point.
Hip-hop, RIGHT NOW, is not as creative as it used to be (what an understatement that is...). OK, thats no problem, as the creative output from times gone by was at such a high level it would have been impossible for fans to expect our beloved genre to keep on developing and bettering itself at such a high pace. But the problem does not lie within itself. Hip-hop, RIGHT NOW, is nowhere near as creative as many other genres. Rock, indie and metal are flourishing right about now, and even older bands in those genres such as Nine Inch Nails and the like are experiencing a rebirth of sorts, by tapping into new sounds and changing their own perception on what music should sound like. I just feel like hip-hop is stuck in a rut at this moment.
When the Red Hot Chili Peppers were playing the festival out as the headliners on Sunday night, and had well over 100,000 people all singing along and appreciating their artistry I wondered to myself, could this ever happen in hip-hop?
I just don't think hip-hop at the moment is as good a live spectacle as a) it once was, and b) other genres are. I seriously cannot imagine even the best hip-hop artist in the world (whoever that may be depending on your opinion) being able to both draw a crowd that big into a muddy field and support them and have them hypnotised for the whole time they're on stage.
I've been to some great hip-hop gigs. I saw The Roots at Rock City in Nottingham and was almost drooling when Black Thought was rapping constantly for what seemed like 20 minutes. I saw Nas in the Manchester Apollo and sang along with every song he did and felt like I was part of something special when the first few bars of 'It Ain't Hard To Tell' came out of Nasir's mouth. But these are exceptions. Most hip-hop gigs I go to comprise of just the group members or rappers all walking about the stage going through the motions, shouting at the crowd and generally just looking like they cobbled together the set minutes before. I saw Enter Shikari, a trance/metal british group at Leeds Festival and they had an entire light show going on while managing to persuade the crowd to start pit circles and chant choruses and the lead singer got his whole band to stage dive into the crowd and dance like ravers when the trance came in. It was a sight to behold. Most rappers these days just stand and, well, rap.
I would be interested to see a hip-hop festival, because none have ever been staged as far as I know in my region, and none in our country have been staged on a truly huge scale. But one factor remians, both on creative and performance levels, hip-hop as a genre in this day and age is slipping, and needs to step up. It's falling behind other genres so much at the moment due to its insistence to be monotonous to irritating levels in its commercial circles.
A weekend listening to some great guitar music amongst other things has made me truly see hip-hop as a genre that is in a state of crisis at the moment. Granted, this year has been much better than previous years for material so far, but I'm talking interms of commercial artists. Someone spectacular needs to breakthrough. If Kanye West, 50 Cent and Cam'Ron is the best we can do to represent our culture on a major scale then we aren't doing ourselves justice.
Music update coming tomorrow. Hip-hop needs to wake up.