Okay, so this isn't UK hip-hop, but I haven't seen this album posted on any other blog and I thought it needed to be shared. I won't be putting up many albums on this site in their entirety, so consider this a bit of a treat.
The artist,
Esau
, was a complete unknown when I bought this album. I bought it from an independant shop in Durham (North-East England) for a couple of quid basically because it was cheap, it was hip-hop, and it was something that I hadn't heard of. I'm so glad I did get it because the lyrics on this album are second to none.
Esau
(along with his crew The Nobodies) are superb lyricists, and even on the occasions when the music isn't really up to par, the listener is drawn in by the words. In essance, this is one of those albums where the background music really is background music, and the rapping is used in the way it should be used. TO GET A POINT ACROSS, not just to spout pointless drivel
(see G-Unit).
The album is only added to by some key guest spots from absolutely legendary rap group
Yaggfu
Front
, Demigod rapper
Apathy
and classic freestyle/battle rapper
Supastition
.
So... Enjoy the album
1. First
2. Underground
3. Original Duplicator
4. I Hate
5. Ahh
6. What More Can I Say
7. Stop Being Blinded (feat. Da Wizard of Aahs)
8. That's Real
9. I'm Going To Hell (feat. Equinox of The Nobodies)
10. You Ain't Fly
11. Esau Vs Blackmel (feat. Blackmel AKA Supastition)
12. Me & My Baby (feat. Equinox of The Nobodies)
13. Independents (feat. Apocalypse of The Nobodies)
14. Boo
15. U.R. Destine (feat. Mahogany)
16. 2 Many Emcees (feat. The Nobodies, Yaggfu Front, Danja Mowf, Apathy & Blackmel AKA Supastition)
17. One In A Thousand
18. Merry Go Round (feat. Mahogany)
19. I Got All That


And as a bonus...
Hans Grubler requested some Dr Syntax, and the only album I have by the
Foreign Beggars
affiliate is
'Off The Radar'
. You lot are lucky that you've caught me in a lazy mood so here is that LP. It is a rather impressive effort, with the beats handled by Dag Nabbit (or at least it sounds like it!), making the output in the same vein as that found on a Foreign Baggars album (specifically Asylum Speakers - the album even contains a live clip of Syntax's verse from the song 'Glacial' that can be found on that album).
Syntax himself is a decent enough rapper with some punchlines, but the guests definitely help here. Obviously Orifice Vulgatron and the Beggars come in to aid him, as does Newcastle-based rapper Stig of the Dump (which means he's close to my heart!) and strangely, Wildchild of
Stones Throw
LA-based group Lootpack. The album is very cohesive and follows its own sound, and even though none of the tracks are classic material, the LP as a whole is very impressive.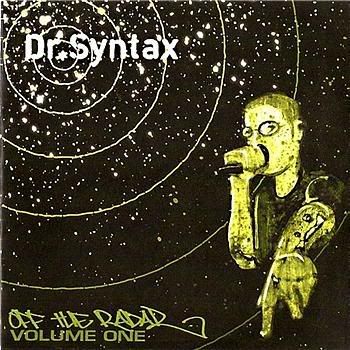 Dr. Syntax - Off The Radar Volume 1
1. Bring It To The Boil Feat. Enlish & Koaste
2. As Sure As The Globe Spins
3. Million Skill March Feat. Foreign Beggars & Wildchild
4. Head Home Feat. Hinesy Hines
5. Resolutions
6. Glacial (Live In Stavenga Norway)
7. H Props & Doc Synners
8. Lets Have Some Feat. Wordsmith
9. Down To A Science Feat. Koaste
10. Clowns Mask
11. Carnival Stomp Feat. Hinesy Hines & Enlish
12. Fatty & Speccy Feat. Stig of The Dump
13. Never Over Feat. Inja & Orifice Vulgatron
I will be doing more artist profiles like the ones earlier in the week in the future, so look out for many more Northern Author collections from UK hip-hop artists. Hey, you never know, I might even throw in some music from a Johnny Foreigner! Stay tuned.