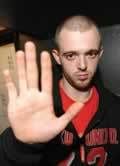 You've already heard some of his beats off the last post, but Harry Love deserves to have some more focus. He's been making quality british hip-hop for years now, and has been involved in some way in over 50% of all of the important releases coming out of the UK. He has worked with nearly everyone and seems to only be getting better.
Harry Love's sound is extremely distinctive. He makes dark but soulful music, and is somewhat of a British Dj Premier with his scratches. On his
myspace page
, he has posted up some instrumentals from a forthcoming album, 'Speechless', and most people who even have a passing knowledge of british rap will know his beat on
Klashnekoff's 'Murda'
.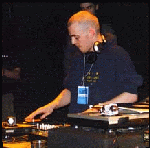 He has made some quality music with Terra Firma, Tommy Evans & YNR Productions,
Yungun
, Verb T & most other artists you can name, including even US psuedo-pimp-rapper Captain Back$lap a.k.a. J-Zone and Jehst on my personal favourite Harry Love song 'Staircase To Stage'.
Harry Love will more than likely continue to make brilliant beats, and push his own sound to the fullest. And just a final tip from me, if you're looking to be big on the british hip-hop scene and need to be respected quickly, look no further than hooking up with this lad @ the Beats Pharmacy.
Klashnekoff - 'Murda'
(from
'The Sagas Of Klashnekoff'
)
Kyza - 'Lights Out'
(from the 12" vinyl single
'Lights Out/Harsh Reality'
)
Yungun - 'What Eye See Part II'
(from Yungun's LP
'The Essance'
)
Jehst, J-Zone & Harry Love - 'Staircase To Stage'
(from the
12" vinyl single of the same name
)